Sales of small DC motors with gearbox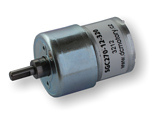 DC motor series SGC270 with spur gearbox
Torque: 45...1500 g-cm
Speed: 4,0...420 rpm
Voltage: 12 V
Diameter: 27,3 mm
Bohužel v tuto chvíli nemohu zaručit dodání této série (netýká se skladu). Je to z důvodu velmi vysokého minimálního objednacího množství samotného motoru. Dodání je možné jen v případě, že je požadované množství motorů k dispozici u výrobce.
Pro zjištění aktuální dostupnosti mě, prosím, kontaktujte.
The same gearbox is used in the series SGC271, which serves as the closest substitute.
DC metal-brush motor
It contains a filter to suppress electromagnetic interference
Spur gearbox with metal gears
First stage is made of brass
Sleeve bearings
Gear motor specifications
Ratio
10:1
15:1
21:1
30:1
44:1
60:1
77:1
100:1
112:1
150:1
170:1
12 V
Rated torque [g-cm]
89
120
171
215
315
429
549
715
805
825
939
Rated speed [rpm]
375
250
176
125
85
63
49
37
33
25
22
24 V
Rated torque [g-cm]
45
60
90
110
160
220
290
370
410
430
480
Rated speed [rpm]
420
280
195
140
95
70
55
42
37
27
24
Wieght [g]
59
60
60
61
61
61
61
62
62
62
62
Ratio
200:1
250:1
320:1
360:1
500:1
700:1
800:1
900:1
1150:1
12 V
Rated torque [g-cm]
1100
1200
1200
1200
1500
1500
1500
1500
1500
Rated speed [rpm]
19
15
12
10.5
7.5
5.6
5.0
4.9
4.0
24 V
Rated torque [g-cm]
560
700
900
950
1050
1500
1500
1500
1500
Rated speed [rpm]
20
16
13
11.3
8.0
5.7
5.3
5.0
4.1
Wieght [g]
62
62
62
62
63
63
63
63
63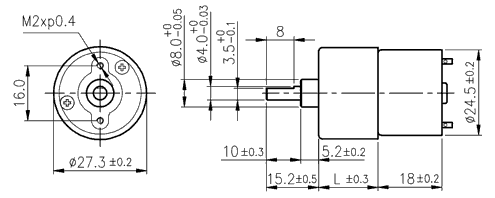 Gearboxes specifications
Backlash, at no-load ≤ 2 °
Radial load ≤ 0.3 kg (10 mm from flange)
Shaft axial load ≤ 0.2 kg
Shaft press fit force max. ≤ 2 kg
Radial play of shaft ≤ 0.05 mm
Thrust play of shaft ≤ 0.3 mm
Operating temperature range -10...60 °C
Operating relative humidity 20...85 %
Ratio
10:1
15, 21:1
30, 44:1
60, 77:1
100, 112:1
150, 170, 200,
250, 320, 360:1
500, 700, 800,
900, 1150:1
Rated permissible torque [kg-cm]
0.3
0.4
0.6
0.8
1.0
1.2
1.5
Efficiency [%]
81
73
65
65
65
50
40
Length L [mm]
17.3
17.3
17.3
17.3
17.3
17.3
19.3
Motor data
Rated voltage
[V]
Rated torque
[g-cm]
Rated speed
[rpm]
Rated current
[mA]
No load speed
[rpm]
No load current
[mA]
Rated output
[W]
12
11
3750
≤80
5200
≤40
0.40
24
10
6400
≤60
8000
≤15
0.66